Style Old Format Converter is a software program for converting YAMAHA keyboard style files in
SFF1
style format to various subformats used at older/smaller keyboards.
Read about style format differences and how to convert between models at Style File Features.
The program can be run in 2 modes:
• Convert a single/multiple style files
• Convert all style files in a folder
During the years the Mega Voices have got more complex, and the number has increased dramatically.
This means that the conversion of Mega Voices in some cases is rather problematic; and hence an individual revoicing of the style might be required.
After conversion the style might need some tweaking:
• To revoice the style: Use the Style Creator at your keyboard or my Style Revoicer software.
• To edit the OTS data: Use the Style Creator at your keyboard or my OTS Editor software.
• To edit the MIDI data: Use the Style Creator at your keyboard or your sequencer program.
• To edit the CASM data: Use my CASM Editor software.
About conversion
Conversion can be a one-to-one conversion, such as conversion of miles to kilometres, or Fahrenheit to centigrade. Such conversion can be carried out without loss of accuracy.
But conversion may require pre-processing or post processing to get the best results, most often performed manually. Think of converting images to other formats. To get the best result colour balance, contrast etc. should often be adjusted manually afterwards. Just like translation with e.g. Google. Results are usually somewhat understandable, but not perfect. Here you will also need manual finishing.
The same goes for converting with this 1-click program. The result of the conversion is useful - and in many cases fully enough - for the average user. But if the end result has to be 100% correct, there must be manual finishing in more advanced programs.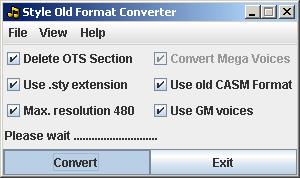 Version
Date
Changes
1.19
2017-12-07
Technical update. No new features.
1.18
2017-11-10
Support for Genos Mega voices.
1.17
2017-11-02
Technical update. No new features.
1.16
2015-06-03
Support for PSR S670 Mega voices.
1.15
2014-05-24
There are no new features. This update has a background in security. While desktop applications are not particularly vulnerable to external threats, I have decided to update this application. This means that the JRE (Java Runtime Environment) ver. 7 must be installed on the user's computer. I apologize for any inconvenience; but "better safe than sorry". Read Get JRE for additional information.
1.14
2013-11-11
Support for Tyros 5 Mega voices.
1.13
2013-10-11
File menu now supports multiselection of files.
File Open Dialog will show style files only.
1.12
2012-01-01
Error in the installation package corrected.
1.11
2011-10-28
Increased program speed.
View menu added. Defines and saves User Interface size setting.
Added shortcuts to most used file operations.
Updated the look of the User Interface.
1.10
2011-08-28
New File Dialogs for selecting folders in Folder Mode.
1.09
2010-10-31
Support for Tyros 4 Mega voices.
1.08
2010-02-10
Internal code revision.
1.07
2009-09-25
Added multilingual Online Help. Accessible from within the program, and from this page.
If you upgrade you MUST run Java Runtime Environment (JRE) version 1.6 or better at your computer. More information about getting and installing JRE at the Download Page.
1.06
2008-07-12
Keep MSB/LSB in drum channels when GM voices are selected.
1.05
2007-05-12
Change style to use GM voices only.
1.04
2005-10-15
Support for Tyros 2 Mega voices.
Code revised. In some circumstances the conversion was faulty.
1.03
2005-02-01
The Directory List window was "hanging" if a subfolder at a non-available drive (e.g. a floppy disc) was selected.
1.02
2004-09-12
"Max. resolution 480"-feature added to make style usable at older keyboards with a low max. resolution (e.g. PSR 7000).
1.01
2004-09-01
"Use old CASM Format"-feature added to avoid incompatibility in the keyboard Mixer.
1.00

2004-08-10

Initial release
Legal Stuff
Style Old Format Converter
© 2004- Jørgen Sørensen.
All Rights Reserved.
You should carefully read the following terms and conditions before using this program.
Copyright
Copyright laws apply to this program, and the copyright holder retains all rights. The program must NOT be altered or decompiled nor included as part of another system or program without permission from the holder of copyright. Uploading to web sites or file servers or inclusion at cd's, copying to other persons etc. is strictly prohibited.
Disclaimer
Users of Style Old Format Converter must accept this disclaimer of warranty: Style Old Format Converter and its related documentation is supplied as is. The author disclaims all warranties, expressed or implied, including, without limitation, the warranties of merchantability and fitness for any purpose. The author assumes no liability for damages, direct or consequential, which may result from the use or inability to use Style Old Format Converter.