Style Split and Splice is a software program for splitting and splicing Yamaha keyboard Style Files.
---
Download Page - Program Help - Technical Problems

This program can split Yamaha Style Files in two parts: The MIDI part and the non-MIDI part; and splice it again.
The two parts have file extension "mid" (MIDI) and "nmi" (Non-MIDI) respectively.

Most MIDI sequencer software can not handle the non-MIDI part in Yamaha keyboard Style Files; and will delete the non-MIDI data. Therefore editing of style files can not be done in these softwares. (Exception: The Anvil Studio software will keep non-MIDI data untouched).

However if the style file is splitted, the MIDI part can be edited in any MIDI sequencer software. After editing the original non-MIDI part must be spliced to the edited MIDI part.

The program can handle single files or all the style files in a folder.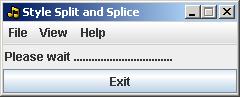 Version history
Version
Date
Changes
1.06
2013-10-11
File menu now supports multiselection of files.
File Open Dialog will show style files only.
1.05
2011-10-28
Run in batch mode added.
Increased program speed.
View menu added. Defines and saves User Interface size setting.
Added shortcuts to most used file operations.
Updated the look of the User Interface.
1.04
2010-02-10
Internal code revision.
1.03
2009-09-25
Added multilingual Online Help. Accessible from within the program, and from this page.
If you upgrade you MUST run Java Runtime Environment (JRE) version 1.6 or better at your computer. More information about getting and installing JRE at the Download Page.
1.02
2008-10-27
Tyros 3 update
1.01
2008-01-26
Internal code revision.
If you upgrade you MUST run Java Runtime Environment (JRE) version 1.5 or better at your computer. More information about getting and installing JRE at the Download Page.
1.00
2005-01-01
Initial release
---