Download Page
Deutsche Anleitung (F.-U. Julitz)
A program for formatting text files to keyboard screen.
The program will format "chord and text" files to fit on screens in Yamaha Keyboards.
The background for creating this software program was that some of these chord/lyrics text files were formatted in text processors (e.g. MS Word) using proportional font.
This formatting will result in alignment problems between chord symbols and the corresponding text when the files were save in pure text format
Read the manual for instructions how to use Text Formatter.
The manual is included in the installation file.
Reading the manual requires Acrobat Reader ver.7 or newer installed at the computer. Get it from here.
From file in Microsoft Word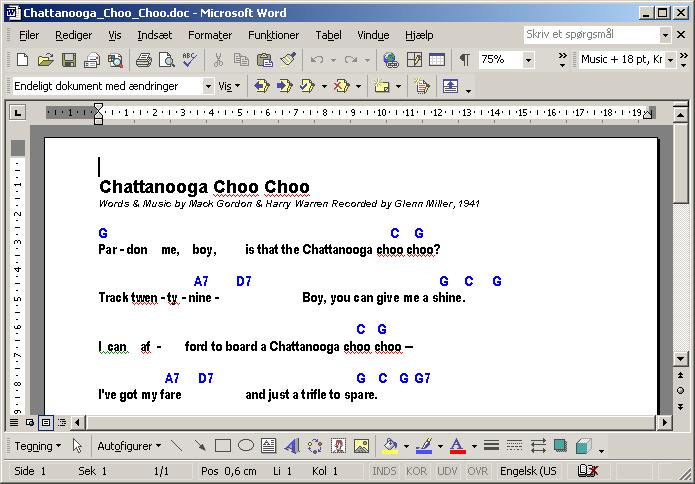 to this view in Text Formatter (before formatting)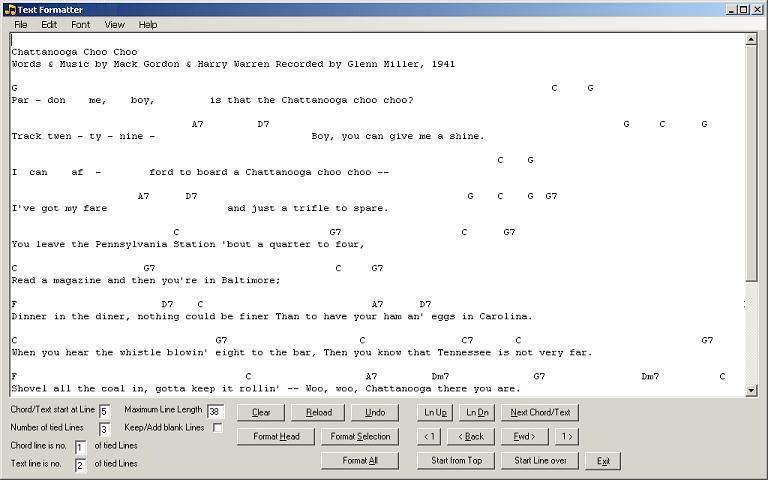 to this view in Text Formatter (after formatting)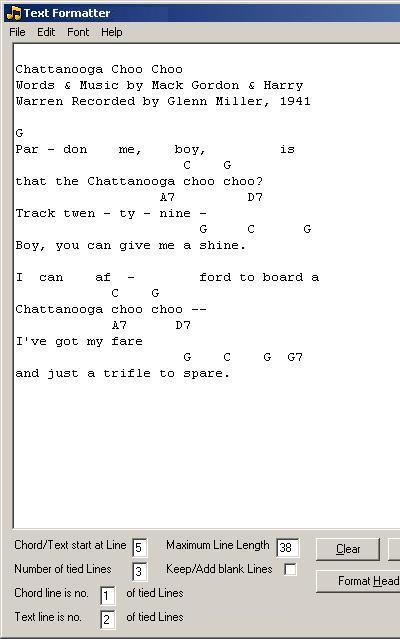 Version
Date
Changes
1.7
2017-12-02
No new features. Minor changes in User Interface.
1.6
2013-10-15
File Open Dialog will show text files only.
1.5
2013-07-27
Improved compatibility with systems running more .Net Frameworks.
1.4
2012-12-01
Compatibility with more .Net Frameworks.
Internal code revision.
1.3
2011-09-28
View menu added. Defines and saves User Interface size setting.
Some unstable code has be re-programmed.
Added shortcuts to most used file operations.
.Net Framework ver. 2 is now required.
1.2
2010-02-10
Internal code revision.
1.1
2009-03-01
Help file enlarged.
Added multilingual Online Help. Accessible from within the program, and from this page.
1.0
2008-07-12
Version 1.0 release.
Beta 15

2008-03-07

Beta release 15
Legal Stuff
Text Formatter
© 2008- Jørgen Sørensen.
All Rights Reserved.
You should carefully read the following terms and conditions before using this program.
Copyright
Copyright laws apply to this program, and the copyright holder retains all rights. The program must NOT be altered or decompiled nor included as part o another system or program without permission from the holder of copyright. Uploading to web sites or file servers or inclusion at cd's, copying to other persons etc. is strictly prohibited.
Disclaimer
Users of Text Formatter must accept this disclaimer of warranty: Text Formatter and its related documentation is supplied as is. The author disclaims all warranties, expressed or implied, including, without limitation, the warranties of merchantability and fitness for any purpose. The author assumes no liability for damages, direct or consequential, which may result from the use or inability to use Text Formatter.